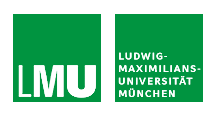 Institute of Phonetics and Speech Processing
WikiSpeech
System requirements
Network access
fast Internet connection (DSL or broadband)
data upload capacity of 50 MB per session (i.e. 1.5 GB for 30 sessions)
firewall and antivirus software must allow repeated uploads of large files to host webapp.phonetik.uni-muenchen.de using the HTTP service
Please check with your system administration or your Internet provider whether your site meets these requirements.
Personal computer requirements
PC-Hardware (desktop computer,laptop, possibly tablets) with a CPU of at least 1.2 GHz
At least 2 GB RAM
Internet browser Windows: Google Chrome, Mozilla Firefox, Opera, Edge from version 80
Internet browser macOS: Safari from version 13 (only mono recording), Google Chrome, Mozilla Firefox, Opera
Internet browser iOS (iPhone,iPad): Mobile Safari from version 14.1, iOS 14.5 (only mono recording)
Internet browser Android: Mozilla Firefox
Internet browser Linux: Mozilla Firefox, Google Chrome, Opera
PC Microphone and headphone/speakers (may depend on certain project requirements)
Note: Virtual computers and terminal services may have problems with audio recordings. It is not recommended to use them.
Browser check
error Your current browser/platform is NOT suitable for WikiSpeech recordings. Please use a browser from the compatibility list above.
Platform: Other
Browser: CCBot 2.0